Services
Whether you need translation for film or television, documentary or corporate video, synopsis or script, I can guarantee you a friendly and professional approach with a personalized treatment.
Because every project is different and each customer has different needs, treating every project with the highest accuracy and professionalism is key.
Subtitling

I can look after every step of subtitle creation: whether you need to create subtitles from scratch, or you have a subtitle template you would like to translate, I can do it for you.

Subtitling services include:

Video time-spotting
Timed Transcription
Translation from audio
Translation from a subtitle template
Quality assurance
SDH origination and quality assurance



Audiovisual Translation

Script translation
Translation for dubbing and voice-over
Synopsis translation
Technical files translation
Director's notes translation
Reviews translation
Audio description (AD)


Text Translation

Apart from audiovisual translation, I am also available to translate text material related to the following subjects:

Marketing
Business
Information technology
Press releases
Funding applications
Case studies
Tourism related material
Academic papers and thesis
Literary material


Con tecnología de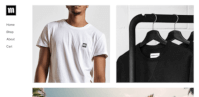 Crea tu propio sitio web único con plantillas personalizables.